Autumn migration of birds over Polonyna Borzhava (Ukrainian Carpathians)
O. Dubovyk

Ivan Franko National University of Lviv, vul. Hrushevskoho, 4, Lviv, 79005 Ukraine

A. Bokotey

Ukrainian National Forestry University, vul. Generala Chuprynky, 103, Lviv, 79057 Ukraine

L. Pokrytiuk

West-Ukrainian Ornithological Society, vul. Teatralna, 18, Lviv, 79008 Ukraine

V. Bodnar

West-Ukrainian Ornithological Society, vul. Teatralna, 18, Lviv, 79008 Ukraine

Yu. Strus

State Museum of Natural History, NAS of Ukraine, vul. Teatralna, 18, Lviv, 79008 Ukraine

O. Ruchko

West-Ukrainian Ornithological Society, vul. Teatralna, 18, Lviv, 79008 Ukraine
Keywords:
autumn bird migration, Carpathians, Borzhava mountain ridge, Transcarpathian region, Ukraine
Abstract
Migration processes of birds occurring on the Polonyna Borzhava ridge were studied. Material was collected during 52-days period since September till November 2018 and total duration of observations was equal to 307 hours. It was found that despite difficult terrain and variable weather conditions at least 48 species of birds migrate over Polonyna Borzhava. Among them the following species dominate: Chaffinch Fringilla coelebs, Common Crane Grus grus, Eurasian Siskin Spinus spinus, Common Wood Pigeon Columba palumbus, Great Tit Parus major, Goldfinch Carduelis carduelis, Water Pipit Anthus spinoletta, Blue Tit Cyanistes caeruleus, and also raptors: Sparrowhawk Accipiter nisus, Common Buzzard Buteo buteo, Goshawk Accipiter gentilis, Hen Harrier Circus cyaneus, Marsh Harrier Circus aeruginosus and other species. Among detected species six are under protection of the Red Data Book of Ukraine: Common Crane, Hen Harrier, Stock Dove Columba oenas, Alpine Accentor  Prunella collaris, Osprey Pandion haliaetus, and Peregrine Falcon Falco peregrinus. Median date of the overall bird passage falls on 9 October. Passage dynamics differs among species. Most of species prefer flight heights not higher than 55 m above the ridge, but some numerous species choose higher altitudes, for instance Wood Pigeon (85.6±62.7 m), and Common Crane (227.5±62.5 m).
References
Bashta, A.-T. 1999. Breeding bird community of monocultural spruce plantation in the Skolivski Beskid s (The Ukrainian Carpathians). Berkut, 8 (1), 9-14.
Bokotey, A., Dzyubenko, N., Strus, I. 2013. Preliminary results of avifauna research in the area of Verkhniodnistrovsky Beskids selected for Smerechanska windfarm building. In: Rusev, I., Stoilovskiy, V., Korzyukov, A., Kivganov, D., eds. The birds and the environment. Odessa, April, 30-35 [In Ukrainian].
Dyderski, M., Paź, S., Frelich, L. E., Jagodziński, A. M. 2018. How much does climate change threaten European forest tree species distributions? Global Change Biology, 24 (3), 1150-1163. https://doi.org/10.1111/gcb.13925
Gilroy, J. J., Gill, J. A., Butchart, S. H. M., Jones, V. R., Franco, A. M. A. 2016. Migratory diversity predicts population declines in birds. Ecology Letters, 19, 308-317. https://doi.org/10.1111/ele.12569
Gurung, A. B., Bokwa, A., Chełmicki, W., Elbakidze, M., Hirschmugl, M., Hostert, P., Ibisch, P., Kozak, J., Kuemmerle, T., Matei, E., Ostapowicz, K., Pociask-Karteczka, J., Schmidt, L., van der Linden, S., Zebisch, M. 2009. Global change research in the Carpathian mountain region. Mountain Research and Development, 29 (3), 282-289. https://doi.org/10.1659/mrd.1105
Kish, R. 2017. Observation of a Dotterel Eudromias morinellus on the Polonyna Borzhava. Troglodytes. Proceedings of the West-Ukrainian Ornithological Society, 8, 102 [In Ukrainian].
Lugovoy, A. 1992. Visible bird migration in the Upper Tisa river. In: Voynstvenskyi, M., ed. Seasonal bird migrations on the territory of Ukraine. Naukova Dumka, Kiev, 141-152 [In Russian].
Lugovoy, A., Potish, L. 1996. Migration of geese of the genus Anser in the area of the East Carpathians. Berkut, 5 (1), 71-78 [In Russian].
Mihai, B., Săvulescu, I., Rujoiu-Mare, M., Nistor, C. 2017. Recent forest cover changes (2002-2015) in the Southern Carpathians: a case study of the lezer Mountains, Romania. Science of the Total Environment, 599-600, 2166-2174. https://doi.org/10.1016/j.scitotenv.2017.04.226
Miller, F. P., Vandome, A. F., McBrewster, J. 2010. Mean of circular quantities. Alphascript Publishing, Beau Bassin, 1-88.
Murava, I., Korobeinykova, Y. 2016. Th e analysis of the waste problem in tourist destinations on the example of Carpathian region in Ukraine. Journal of Ecological Engineering, 17 (2), 43-51. https://doi.org/10.12911/22998993/62285
Poluda, A., Prokopenko, S., Diadycheva, E., Revutskyi, G. 1992. Some features of birds' spring migration in Carpathians. In: Voynstvenskyi, M., ed. Seasonal bird migrations on the territory of Ukraine. Naukova Dumka, Kiev, 133-141 [In Russian].
Strautman, F. 1953. Role of river valleys in distribution of plain bird species to Soviet Carpathians. Dopovidi ta povidomlennya Lvivskoho derzhavnoho universitetu imeni Iv. Franka, 4 (2), 51-54 [In Russian].
Strautman, F. 1957. River valleys in Soviet Carpathians as bird migrations and wanderings routes. In: Kumary, E., ed. Proceedings of Second Baltic ornithological conference. Izdatelstvo Akademii Nauk SSSR, Moscow, 85-89 [In Russian].
Varallyay, G. 2006. Soil degradation and extreme soil moisture regime as environmental problems in the Carpathian basin. Agrokйmiaйs Talajtan, 55 (1), 9-18 [In Hungarian]. https://doi.org/10.1556/Agrokem.55.2006.1.2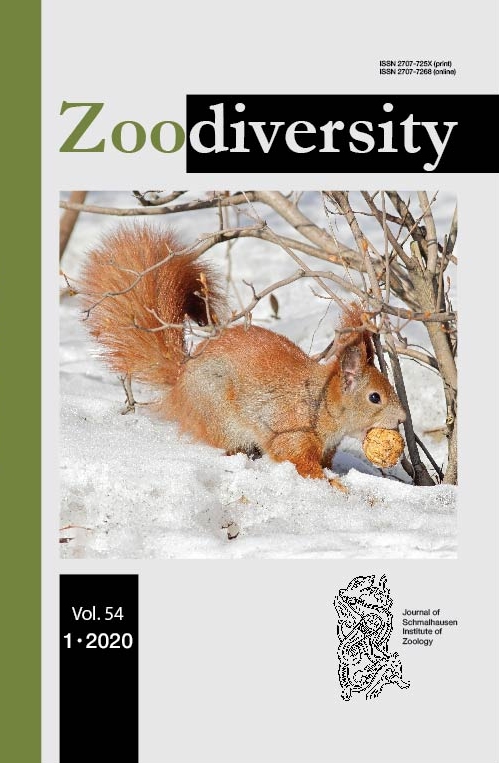 How to Cite
Dubovyk, O., Bokotey, A., Pokrytiuk, L., Bodnar, V., Strus, Y., & Ruchko, O. (2020). Autumn migration of birds over Polonyna Borzhava (Ukrainian Carpathians). Zoodiversity, 54(1), 43-52. https://doi.org/10.15407/zoo2020.01.043
Copyright (c) 2020 Institute of Zoology
This work is licensed under a Creative Commons Attribution-NonCommercial-NoDerivatives 4.0 International License.