First records of the rare family Clusiidae (Diptera, Opomyzoidea) from Iran
F. Kazerani

Research Institute of Forests and Rangelands, Agricultural Research Education and Extension Organization (AREEO)

P. Beuk

Natuurhistorisch Museum Maastricht, De Bosquetplein, 6–7, NL-6211KJ, Maastricht, the Netherlands

M. E. Farashiani

Research Institute of Forests and Rangelands, Agricultural Research Education and Extension Organization (AREEO), Tehran, I.R. Iran

Sh. Mohammadnezhad Kiasari

Agriculture and Natural Resources Research and Education Center of Mazandaran, AREEO, Mazandaran, I.R. Iran
Keywords:
Diptera, Fauna, Clusiidae, Iran
Abstract
During our research on the Diptera fauna ofnorthern Iran
during 2017–2018, three species of the family Clusiidae have been collected and identified. Clusiaflava
(Meigen, 1830), Clusia tigrina (Fallén, 1820) and Clusiodes ruficollis (Meigen, 1830) are recorded from
Iran for the first time. These also represent the first records of the family Clusiidae from Iran.


References
Falk, S. J., Ismay, J. W., Chandler, P. J. 2016. A provisional assessment of the status of Acalyptratae flies in the UK. Natural England Commissioned Reports, Number 217, iv + 1–255.
Ferrar, P. 1987. A guide to the breeding habits and immature stages of Diptera Cyclorrhapha. Brill, Leiden, iv+1–907 (Entomonograph, 8).
Głowaciński, Z., ed. 2002. Czerwona lista zwierząt ginących i zagrożonych w Polsce. Suplement. Instytut Ochrony Przyrody. Polskiej Akademii Nauk, Kraków, 1–74.
Hellqvist, S. 2018. Clusiodes tuomikoskii, a druid fl y (Diptera: Clusiidae) new to the European fauna found in Sweden. Entomologisk Tidskrift , 139, 51–54.
Lonsdale, O. 2017. World Catalogue of the Druid Flies (Diptera: Schizophora: Clusiidae). Zootaxa, 4333 (1), 1–85. Lonsdale, O., Marshall, S. A. 2007. Redefi nition of the genera Clusiodes and Hendelia (Diptera: Clusiidae, Clusiodinae). Studia dipterologica, 14 (1), 117–159.
Lonsdale, O., Marshall, S. A. 2008. Synonymy within Clusia and description of the new genus Melanoclusia (Diptera: Clusiidae: Clusiinae). Annals of the Entomological Society of America, 101 (2), 327–330.
Lonsdale, O., Marshall, S. A., Fu, J., Wiegmann, B. 2010. Phylogenetic analysis of the druid fl ies (Diptera: Schizophora: Clusiidae) based on morphological and molecular data. Insect Systematics & Evolution, 41(3), 231–274.
Martinovský, J., Roháček, J. 1993. First records of Synneuron annulipes Lundstrom (Synneuridae) and Mesaxymyia kerteszi (Duda) (Axymyiidae) from Slovakia, with notes on their taxonomy and biology (Diptera). Časopis Slezskéhozemského Muzea, Opava (A), 42 (1), 73–78.
Roháček, J. 1995. Clusiidae (Diptera) of the Czech and Slovak Republics: Faunistics and notes on biology and behaviour. Časopis Slezskéhozemského Muzea, Opava (A), 44 (2), 123–140.
Roháček, J. 2012. Th e fauna of the opomyzoidfamilies Clusiidae, Acartophthalmidae, Anthomyzidae, Opomyzidae, Stenomicridae, Periscelididae, Asteiidae (Diptera) in the Gemer area (Central Slovakia). Časopis Slezskéhozemského Muzea, Opava (A), 61 (2), 97–111.
Rotheray, G. E., Horsfi eld, D. 2013.Development sites and early stages of eleven species of Clusiidae (Diptera) occurring in Europe. Zootaxa, 3619 (4), 401–427.
Smith, K. G. V., 1950. Th e puparium of Clusia fl ava Mg. (Diptera: Clusiidae). Th e Entomologist's Monthly Magazine, 86, 53.
Soós, A., 1984. Family Clusiidae. In: Soós, A., Papp, L., eds. Catalogue of Diptera Palaearctic Diptera.Vol. 10. Clusiidae-Chloropidae. Akadémiai Kiadó, Budapest, 11–14.
Stackelberg, A. A., 1989. Family Clusiidae. In: Bei-Bienko, G. Y., Steyskal, G. C., eds. Keys to the Insects of the European Part of the USSR. Volume V. Diptera and Siphonaptera, part 2. Brill, Leiden, 505–508.
Sueyoshi, M., 2006. Species diversity of Japanese Clusiidae (Diptera: Acalyptrata) with description of 12 new species. Annales de la Société Entomologique de France, 42 (1), 24–26.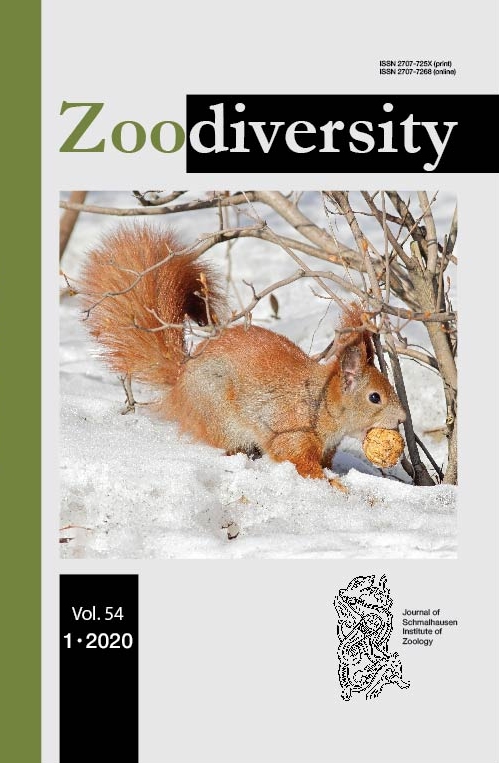 How to Cite
Kazerani, F., Beuk, P. B., Farashiani, M. E., & Kiasari, S. M. (2020). First records of the rare family Clusiidae (Diptera, Opomyzoidea) from Iran. Zoodiversity, 54(1), 31-34. https://doi.org/10.15407/zoo2020.01.031
Section
Fauna and Systematics
Copyright (c) 2020 Institute of Zoology
This work is licensed under a Creative Commons Attribution-NonCommercial-NoDerivatives 4.0 International License.