Macrophages and pigment cells in the liver of tailless amphibians
N. M. Akulenko

I.I. Schmalhausen Institute of Zoology NAS of Ukraine, vul. B. Khmelnytskogo, Kyiv, 01030 Ukraine
Keywords:
frog, liver, pigment cells, mactophages
Abstract
The morphological features of pigment-containing cells and phagocytic cells were observed on the smears of the liver of the lake frogs. Based on an analysis of more than 1500 cells, it was concluded that cells that have pigment granules in the cytoplasm do not have phagocytic inclusions. On the other hand, phagocytic cells can have pigment inclusions only in the composition of phagocytic vacuoles. Thus, in this organ pigment cells and macrophages are different lines of cell differentiation. For two types of cells, the morphological features characterizing young, functionally active and aging cells are described.
References
Agius, C. 1980. Phylogenetic development of melano-macrophage centres in fish. J. Zool. 191 (1), 11-31.
https://doi.org/10.1111/j.1469-7998.1980.tb01446.x
Akulenko, N. М. 1998. Topography and Structure of the Pigment Сеll Aggregation in the Liver of the Frog (Rana ridibunda). Vestnik Zoologii, 32 (3), 49-53 [In Russian].
Akulenko, N. М. 2013. Pigmentnyye kletki pecheni beskhvostykh amfibiy: fiziologicheskaya rol' i vozmozhnoye primeneniye v tselyakh bioindikatsii, Pratsi Ukrainskoho herpetolohichnoho tovarystva, 4, 11-21 [In Russian].
Akulenko, N. M. 2016. Peculiar features of hematopoiesis in the liver of mature and immature representatives of green frogs (Pelophylax esculentus complex). Vestnik Zoologii, 50 (6), 547-552.
https://doi.org/10.1515/vzoo-2016-0062
Arciuli,. M, Fiocco, D., Cicero, R., Maida, I., Zanna, P. T., Guida, G., Horsberg, T. E., Koppang, E. O., Gallone, A. 2012. Melanogenesis in visceral tissues of Salmo salar. A link between immunity and pigment production? Biochem Cell Biol. 90 (6), 769-778.
https://doi.org/10.1139/o2012-033
PMid:23194190
Barni, S., Bertone, V., Croce, A. C., Bottiroli, G., Bernini, F., Gerzeli, G. 1999. Increase in liver pigmentation during natural hibernation in some amphibians. J Anat., 195 (1), 19-25.
https://doi.org/10.1046/j.1469-7580.1999.19510019.x
PMid:10473289 PMCid:PMC1467961
Barros, I. T., Ceccon, J. P., Glinski, A., Liebel, S., Grötzner, S. R., Randi, M. A. F., Benedito, E., Ortolani-Machado, C. F., Filipak Neto, F., de Oliveira Ribeiro, C. A. 2017. Environmental risk assessment in five rivers of Parana River basin, Southern Brazil, through biomarkers in Astyanax spp. Environ Sci Pollut Res Int., 24 (19), 16228-16240.
https://doi.org/10.1007/s11356-017-9186-z
PMid:28540546
Borucinska, J. D., Morka, D., Grabowski, Z., Smith, H. 2017. A follow-up study of selected biomarkers of health in cod Gadus morhua L. collected from the southern Baltic off the Polish coast. J Fish Dis., 40 (12), 1883-1894.
https://doi.org/10.1111/jfd.12663
PMid:28661024
Bouwens, L. 1988. Structural and functional aspects of Kupffer cells. Revis Biol Celular., 16 (1), 69-94.
Carrola, J. S., Fontainhas-Fernandes, A., Rocha, E. 2019. Uncommon hepatic macrophagic foamy-cell nodules in Iberian barbel (Luciobarbus bocagei Steindachner, 1864) from the Vizela River (Portugal). Microsc Res Tech., 82 (7), 1127-1135.
https://doi.org/10.1002/jemt.23260
PMid:30946508
Corsaro, C. 2000. Characterisation of Kupffer cells in some Amphibia. J Anat., 196 (2), 249-261.
https://doi.org/10.1046/j.1469-7580.2000.19620249.x
PMid:10739021 PMCid:PMC1468058
Dang, M., Nowell, C., Nguyen, T., Bach, L., Sonne, C., Nørregaard, R., Stride, M., Nowak, B. 2019. Characterisation and 3D structure of melanomacrophage centers in shorthorn sculpins (Myoxocephalus scorpius). Tissue Cell. 57, 34-41.
https://doi.org/10.1016/j.tice.2019.02.003
PMid:30947961
de Gregorio, L. S., Franco-Belussi, L., Gomes, F. R., de Oliveira, C. 2016. Flutamide effects on morphology of reproductive organs and liver of Neotropical Anura, Rhinella schneideri. Aquat Toxicol., 176, 181-189.
https://doi.org/10.1016/j.aquatox.2016.04.022
PMid:27152939
De Souza Santos, L. R., Franco-Belussi, L., Zieri, R., Borges, R.E., De Oliveira, C. 2014. Effects of thermal stress on hepatic melanomacrophages of Eupemphix nattereri (Anura). Anat Rec (Hoboken), 297 (5), 864-875.
https://doi.org/10.1002/ar.22884
PMid:24482416
Diaz-Flores, L. 1982. Caracteristicas ultraestructurales de los componentos del sistema de fagocitos mononucleares. Peculiaridades topograficas. Sangre, 27 (4), 770-793.
Diaz-Satizabal, L., Magor, B. G. 2015. Isolation and cytochemical characterization of melanomacrophages and melanomacrophage clusters from goldfish (Carassius auratus, L.). Dev Comp Immunol., 48 (1), 221-228.
https://doi.org/10.1016/j.dci.2014.10.003
PMid:25453581
Haar, J. L., Hightower, J. A. 1976. A light and electron microscopic investigation of the hepatic parehchyma of the adult newt, Notophthalmus viridscens. Anat.Rec., 185 (3), 313-324.
https://doi.org/10.1002/ar.1091850305
PMid:937737
Hayhoe, F. G. H., Quaglino, D. 1983. Haematological cytochemistry, Med., Moscow, 1- 319 [In Russian].
Henninger, J. M., Beresford, W. A. 1990. Is it coincidence that iron and melanin coexist in hepatic and other melanomacrophages? Histol Histopathol., 5 (4), 457-459.
Gutierre, R. C., Jared, C., Antoniazzi, M. M., Coppi, A. A., Egami, M. 2018. Melanomacrophage functions in the liver of the caecilian Siphonops annulatus. J Anat., 232 (3), 497-508.
https://doi.org/10.1111/joa.12757
PMid:29205335 PMCid:PMC5807933
Ribeiro, H. J., Procópio, M. S., Gomes, J. M., Vieira, F. O., Russo, R. C., Balzuweit, K., Chiarini-Garcia, H., Castro, A. C., Rizzo, E., Corrêa, J. D. Jr. 2011. Functional dissimilarity of melanomacrophage centres in the liver and spleen from females of the teleost fish Prochilodus argenteus. Cell Tissue Res., 346 (3), 417-425.
https://doi.org/10.1007/s00441-011-1286-3
PMid:22160458
Passantino, L., Santamaria, N., Zupa, R., Pousis, C., Garofalo, R., Cianciotta, A., Jirillo, E., Acone, F., Corriero, A. 2014. Liver melanomacrophage centres as indicators of Atlantic bluefin tuna, Thunnus thynnus L. well-being. J Fish Dis., 37 (3), 241-250.
https://doi.org/10.1111/jfd.12102
PMid:23634773
Pérez-Iglesias, J. M., Franco-Belussi, L., Moreno, L., Tripole, S., de Oliveira, C., Natale, G. S. 2016. Effects of glyphosate on hepatic tissue evaluating melanomacrophages and erythrocytes responses in neotropical anuran Leptodactylus latinasus. Environ Sci Pollut Res Int., 23 (10), 9852-9861.
https://doi.org/10.1007/s11356-016-6153-z
PMid:26856864
Sichel, G. 1988. Biosynthesis and function of melanins in hepatic pigmentary system. Pigment Cell Res., 1 (4), 250-258.
https://doi.org/10.1111/j.1600-0749.1988.tb00423.x
PMid:3148917
Sichel, G., Scalia, M., Corsaro, C. 2002. Amphibia Kupffer cells. Microscopy Research & Technique, 57 (6), 15, 477-490.
https://doi.org/10.1002/jemt.10101
PMid:12112430
Steinel, N. C., Bolnick, D. I. 2017. Melanomacrophage Centers As a Histological Indicator of Immune Function in Fish and Other Poikilotherms. Front Immunol., 8, 827.
https://doi.org/10.3389/fimmu.2017.00827
PMid:28769932 PMCid:PMC5512340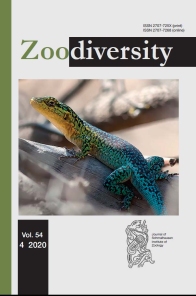 How to Cite
Akulenko, N. M. (2020). Macrophages and pigment cells in the liver of tailless amphibians. Zoodiversity, 54(4). https://doi.org/10.15407/zoo2020.04.299
Copyright (c) 2020 Zoodiversity
This work is licensed under a Creative Commons Attribution-NonCommercial-NoDerivatives 4.0 International License.