Breeding Ecology of the Pied Avocet, Recurvirosrta avosetta (Charadriformes, Recurvirostidae), in Tiffech Lake (Souk Ahras, Northeastern Algeria)
Keywords:
Nests failed, Hatching success, High elevation, Pied Avocet, Breeding ecology
Abstract
In this study, the breeding ecology of the Pied Avocet (Recurvirostra avosetta) was studied during the 2017 breeding season in Tiffech Lake Wetland (868 m in elevation), Northeastern Algeria. Avocets arrived, at Tiffech Lake in early February and usually spent a few days in flocks before dispersing to set up territories. Egg-laying occurred from 11 April to 21 June, with two distinct peaks (last 15 days of April May) and incubation period was 27.0 days. The present study indicates the expanded, breeding season. Clutch and egg size of this high- elevation species was comparable to lowland counterparts. Hatching success was 85.77% and mean net productivity was 0.63 chicks per nest. Entire nest failure from human predation and sheep grazing was responsible for most egg losses.
References
Arroyo, G. M. 2000. Influencia de las transformaciones humanas de hábitats costeros supralitorales sobre la ecología de la reproducción de la cigüeñuela Himantopus himantopus y la avoceta Recurvirostra avosetta (Aves: Recurvirostridae) en la Bahía de Cádiz: aplicación a la gestión de espacios naturales protegidos. Ph.D. Thesis, Cádiz, Puerto Real University, Spain.
Barati, A., Nouri, S. V. 2009. Breeding ecology of the Pied Avocet Recurvirostra avosetta in AghGol wetland, Hamedan Province, Iran. Avocetta, 33, 43-47.
Bensouilah, T., Brahmia, H., Zeraoula, A., Bouslama, Z., Houhamdi, M. 2014. Breeding biology of the European Greenfinch (Chloris chloris) in the loquat orchards of Algeria (North Africa). Zoology and Ecology, 24, 199-207.
https://doi.org/10.1080/21658005.2014.934514
Bensouilah, T. 2015. Contribution à l'étude écologique des passereaux nicheurs dans le Nord-Est d'Algérie Ph.D. Thesis Badji Mokhtar University, Annaba, 143.
Boukrouma, N. 2017. Status and breeding ecology of the Common Coot (Fulica atra) in Tiffech Lake North-East Algeria. International Journal of Ecology and Development, 32 (4), 120-129.
Boyle, A. W., Sandercock, B. K., Martin, K. 2015. Patterns and drivers of intraspecific variation in avian life history along elevational gradients: a meta-analysis. Biological Reviews, 91 (2), 469-482.
https://doi.org/10.1111/brv.12180
Cadbury, C. J., Olney, P. J. S. 1978. Avocet population dynamics in England. British Birds, 71, 102-121.
Chokri, M. A., Selmi, S. 2011. Predation of Pied Avocet (Recurvirostra avosetta) nests in a salina habitat, evidence for an edge effect. Bird Study, 58, 171-177.
https://doi.org/10.1080/00063657.2010.546390
Cramp, S., Simmons, K. E. L.1983. The Birds of the Western Palearctic, 3. Oxford University Press, Oxford.
Cuervo, J. J. 2004. Nest-site selection and characteristics in a mixed species colony of Pied Avocets (Recurvirostra avosetta) and Black-winged Stilts (Himantopus himantopus). Bird Study, 51, 20-24.
https://doi.org/10.1080/00063650409461328
Douglas, R. M. 1990. Volume determination in reptilian and avian eggs with practical applications. South African Journal of Wildlife Research, 20, 111-117.
Hotker, H. 1998. Intraspecific variation in length of incubation period in avocets (Recurvirostra avosetta). Ardea, 86, 33-41.
Hotker, H. 2000. Intraspecific variation in size and density of avocet colonies: Effects on nest-distances on hatching and breeding success. Journal of Avian Biology, 31, 387-398.
https://doi.org/10.1034/j.1600-048X.2000.310315.x
Hotker, H. R. 2005. West population size, population development and habitat use by Avocets in western Europe at the end of the 20th century. Wader Study Group Bulletin, 107, 57-65.
Hotker, H., Sebegade, A. 2000. Effects of predation and weather on the breeding success of avocets (Recurvirostra avosetta). Bird Study, 47, 91-101.
https://doi.org/10.1080/00063650009461163
Lack, D. 1950. The breeding seasons of European birds. American Midland Naturalist, 92, 288-316.
https://doi.org/10.1111/j.1474-919X.1950.tb01753.x
Lengyel, S. 2006. Spatial differences in breeding success in the pied avocet (Recurvirostra avosetta): Effects of habitat on hatching success and chick survival. Journal of Avian Biology, 37, 381-395.
https://doi.org/10.1111/j.0908-8857.2006.03501.x
Lu, X. 2005. Reproductive ecology of blackbird (Turdus merula maximus) in a high-altitude location Tibet. Journal of Ornithology, 146, 72-78.
https://doi.org/10.1007/s10336-004-0058-1
Lu, X., Gong, G., Zeng, X. 2008. Reproductive ecology of Brown- cheeked Laughing Thrushes (Garrulush enrici) in Tibet. Journal of Field Ornithology, 79, 152-158.
https://doi.org/10.1111/j.1557-9263.2008.00157.x
Lu, X., Ke, D. H., Zeng, X. H., Yu, T. L. 2009. Reproductive ecology of two sympatric Tibetan snowfinch species at the edge of their altitudinal range: response to more stressful environments. Journal of Arid Environment, 73, 1103-1108.
https://doi.org/10.1016/j.jaridenv.2009.06.011
Lu, X., Wang, C ., Yu, T. L. 2010 a. Nesting ecology of the greybacked shrike (Lanius tephronotus) in south Tibet. Wilson Journal of Ornithology, 122, 395-398.
https://doi.org/10.1676/09-104.1
Lu, X., Yu, T., Liang, W., Yang, C. 2010 b. Comparative breeding ecology of two white bellied redstart populations at different altitudes. Journal of Field Ornithology, 81, 167-175.
https://doi.org/10.1111/j.1557-9263.2010.00274.x
Saheb, M., Nouidjem, Y., Bouzegag, A., Bensaci, E., Samraoui, B., Houhamdi, M. 2009. Ecologie de la reproduction de l'Avocette élégante (Recurvirostra avosetta) dans la Garaet de Guellif (hautes plaines de l'est algérien). European Journal of Scientific Research, 25, 513-525.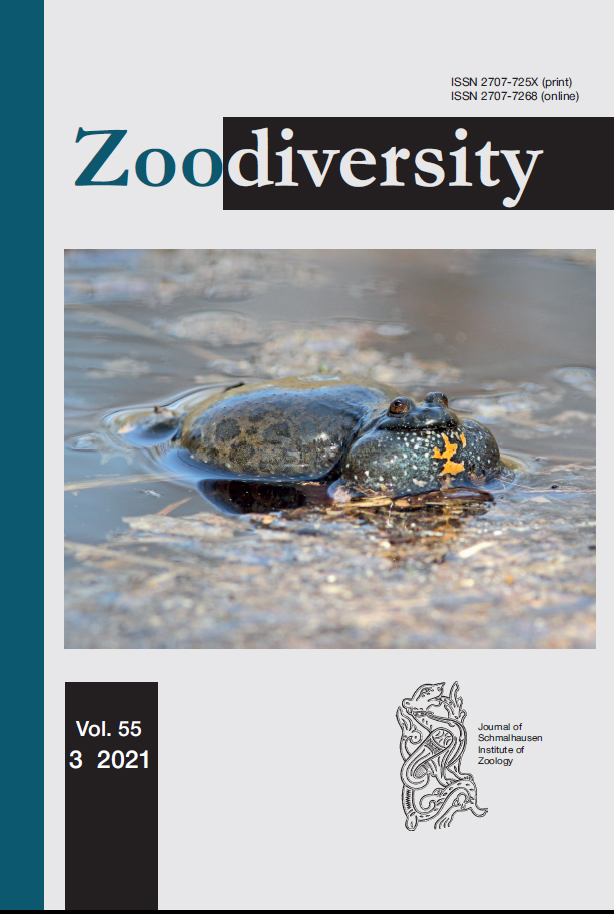 How to Cite
Boukrouma, N. (2021). Breeding Ecology of the Pied Avocet, Recurvirosrta avosetta (Charadriformes, Recurvirostidae), in Tiffech Lake (Souk Ahras, Northeastern Algeria) . Zoodiversity, 55(3), 201–206. https://doi.org/10.15407/zoo2021.03.201