Impact of designed Quairokkum Hydropower Plant reconstruction on the Syr Darya River ichthyofauna
S. A. Afanasyev

Institute of Hydrobiology, NAS of Ukraine, Prosp. Heroiv Stalinhrada, 12; Kyiv, 04210 Ukraine

https://orcid.org/0000-0002-5247-3542

A. M. Roman

Institute of Hydrobiology, NAS of Ukraine, Prosp. Heroiv Stalinhrada, 12; Kyiv, 04210 Ukraine

https://orcid.org/0000-0001-6270-8141

V.L. Dolinskii

Institute of Hydrobiology, NAS of Ukraine, Prosp. Heroiv Stalinhrada, 12; Kyiv, 04210 Ukraine

H.N. Karimov

Environmrent Protection Authority of the Sughd Region, 211 Rakhmona Nabiyeva st., Khujand, 735700 Tajikistan

I. K. Erhashboev

Academician Bobojohn Gafurov Khujand State University, 1 Mavlonbekov lane, Khujand, 735700 Tajikistan
Keywords:
Syr Darya River, Quairokkum Reservoir, fish fauna, Quairokkum Hydropower Plant reconstruction
Abstract
The article presents data on actual state of the fish fauna in the middle section of the Syr Darya River (including Quairokkum Reservoir and not-regulated river section downstream the dam), with regard to their migration behavior and protection status. Based on this list report also considers the actual state of the fish survival at Quairokkum HPP and analyzes of the main species affected and main factors increasing their chance to survive. Three methods to increase fish survival are proposed: by replacement of the turbines by more fish-friendly ones, by construction of the fish pass and by activation of fish deterrent devices in case of large fish accumulations.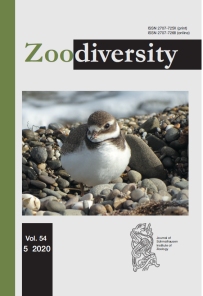 How to Cite
Afanasyev , S. A., Roman , A. M., Dolinskii , V., Karimov , H., & Erhashboev , I. K. (2020). Impact of designed Quairokkum Hydropower Plant reconstruction on the Syr Darya River ichthyofauna. Zoodiversity, 54(5). https://doi.org/10.15407/zoo2020.05.363
Copyright (c) 2020 Afanasyev S.A., Roman A.M., Dolinskii V.L., Karimov H.N., Erhashboev I.K.
This work is licensed under a Creative Commons Attribution-NonCommercial-NoDerivatives 4.0 International License.