Naked lobose amoebae of the genus Mayorella (Amoebozoa, Discosea, Dermamoebida) in Ukrainian water bodies
M. K. Patsyuk

Zhytomyr Ivan Franko State University, Vel. Berdychivska st., 40, Zhytomyr, Ukraine 10008
Keywords:
naked amoebae, Mayorella, Ukrainian water bodies, abiotic factors
Abstract
In Ukrainian water bodies, the genus Mayorella Schaeffer, 1926 is represented by ten species: Mayorella cantabrigiensis Page, 1983, Mayorella vespertilioides Page, 1983, Mayorella bigemma Schaeffer, 1918, Mayorella leidyi Bovee, 1970, Mayorella penardi Page, 1972, Mayorella viridis Leidy, 1874, Mayorella sp. (1), Mayorella sp. (2), Mayorella sp. (3), Mayorella sp. (4). The most widely distributed are M. cantabrigiensis, M. vespertilioides, Mayorella sp. (1), the least observed are M. leidyi, M. penardi, M. viridis, Mayorella sp. (4). The distribution of amoebae is influenced by abiotic environmental factors.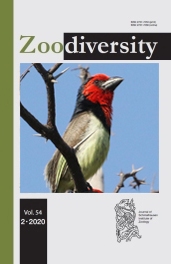 How to Cite
Patsyuk, M. K. (2020). Naked lobose amoebae of the genus Mayorella (Amoebozoa, Discosea, Dermamoebida) in Ukrainian water bodies. Zoodiversity, 54(2). https://doi.org/10.15407/zoo2020.02.089
Section
Fauna and Systematics
Copyright (c) 2020 Zoodiversity
This work is licensed under a Creative Commons Attribution-NonCommercial-NoDerivatives 4.0 International License.