Lepisosteiform fish (Holostei) ganoid scales from the middle jurassic deposits of Ukraine
О. М. Kovalchuk

National Museum of Natural History NAS of Ukraine, B. Khmelnytsky st., 15, Kyiv, 01030 Ukraine

G.V. Anfimova

National Museum of Natural History NAS of Ukraine, B. Khmelnytsky st., 15, Kyiv, 01030 Ukraine
Keywords:
Lepisosteiformes, museum collection, morphology, Callovian, Europe
Abstract
Gars (Lepisosteiformes) flourished in epicontinental seas throughout the world during the second half of Mesozoic and early Cenozoic. Cretaceous and Paleogene remains of these fishes are common in Europe while their Jurassic fossils are still relatively scarce. Here we re-describe in detail a series of ganoid scales from the latest Middle Jurassic (Callovian) deposits of Pekari (Cherkasy Region, Ukraine). These fossils were identified by Professor O. S. Rogovich in 1861 as those that belong to Lepidotus mantellii and L. fittoni. The referral of these scales to a certain species should be considered with caution because the described material lacks characters sufficient for identification it even to the genus or family. We consider to identify these fossils as Lepisosteiformes gen. et sp. indet. An overview of currently known Jurassic occurrences of lepisosteiform fishes is also presented in the paper.
Lepisosteiformes, museum collection, morphology, Callovian, Europe.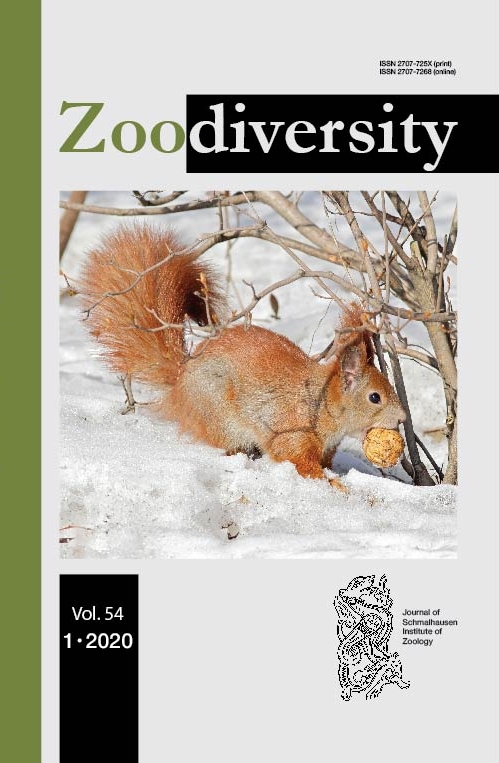 How to Cite
KovalchukО. М., & Anfimova, G. (2020). Lepisosteiform fish (Holostei) ganoid scales from the middle jurassic deposits of Ukraine. Zoodiversity, 54(1). https://doi.org/10.15407/zoo2020.01.035
Section
Fauna and Systematics
Copyright (c) 2020 Institute of Zoology
This work is licensed under a Creative Commons Attribution-NonCommercial-NoDerivatives 4.0 International License.