Obtaining Oviparous Grass Snake Natrix natrix (Serpentes, Colubridae), embryos at Early Developmental Stages by Caesarean Section
Keywords:
development, egg retention, embryogenesis, oviposition, snake
Abstract
There is a specific feature in the developmental biology of oviparous snakes:  embryos in the eggs, which were just laid, have already undergone significant development. This fact makes it significantly complicated to obtain data on organs' development at early stages of embryogenesis. In addition, the fertilization time and the duration of snake pregnancy in the wild are unknown. In order to obtain the embryos of oviparous grass snake Natrix natrix (Serpentes, Colubridae) at successive developmental stages with minimal harm to gravid females we used caesarean section. The past known experience of performing caesarean section in snakes and anesthesia in reptiles were used. All the embryos were taken from the upper oviduct of a female at one time; in this way we eliminated the influence of medications on embryos' development. The described method is valuable when it is necessary to obtain snake embryos and to preserve the life of the female and, possibly, its reproductive ability.
References
Billett, F., Gans, C., Maderson, P. F. A. 1985. Why study reptilian development? In: Gans, C., Billett, F., Maderson, P. F. A., eds. Biology of the Reptilia. Vol. 14. Development A. Wiley & Sons, New York, 1-39.
Boback, S. M., Dichter, E. K., Mistry, H. L. 2012. A developmental staging series for the African house snake, Boaedon (Lamprophis) fuliginosus. Zoology, 115 (1), 38-46.
https://doi.org/10.1016/j.zool.2011.09.001
Boughner, J. C., Buchtova, M., Fu, K., Diewert, V., Hallgrımsson, B., Richman, J.M. 2007. Embryonic development of Python sebae - I: Staging criteria and macroscopic skeletal morphogenesis of the head and limbs. Zoology, 110 (3), 212-230.
https://doi.org/10.1016/j.zool.2007.01.005
Clark, H. 1937. Embryonic series in snakes. Science, 85, 569-570.
https://doi.org/10.1126/science.85.2215.569
Deeming, D. C., Ferguson, M. W. J. 1991. Egg incubation: its effect on embryonic development in birds and reptiles. Cambridge University Press, Cambridge, 1-448.
https://doi.org/10.1017/CBO9780511585739
De La Panouse, R., Pellier, C. 1973. Ponte d'un python reticule (Python reticulatus) eleve en terrarium, et incubation des oeufs. Bulletin du Museum national d'histoire naturelle, 105, 37-48.
Fukada, H. 1956. Biological studies on the snakes III. Observations of hatching of Elaphe clima-cophora (Boie), E. conspicillata (Boie), and Natrix v. vibakari (Boie). Bulletin of the Kyoto Gakugei University. Series B. Mathematics and Natural Science, 9, 21-29.
Gomez, C., Ozbudak, E. M., Wunderlich, J., Baumann, D., Lewis, J., Pourquie, O. 2008. Control of segment number in vertebrate embryos. Nature, 454, 35-339.
https://doi.org/10.1038/nature07020
Holtzman, D. A., Halpern, M. 1989. .In vitro technique for studying Garter snake (Thamnophis sp.) development. Journal of Experimental Zoology, 250, 283-288.
https://doi.org/10.1002/jez.1402500307
Hubert, J. Embryology of the Squamata. 1985. In: Gans, C., Billett, F., Maderson, P. F. A., eds. Biology of the Reptilia. Vol.15. Development B. John Wiley & Sons, New York, 1-35.
Hubert, J., Dufaure, J. P. 1968. Table de developpement de la Vipere Aspic: Vipera Aspis L. Bulletin de la Société zoologique de France, 93, 135-148.
Jackson, K. 2002. Post-ovipositional development of the Monocled cobra, Naja kaouthia (Serpentes: Elapidae). Zoology, 105 (3), 203-214.
https://doi.org/10.1078/0944-2006-00077
Jeffery, J. E., Bininda- Emonds, O. R., Coates, M. I., Richardson, M. K. 2002. Analyzing evolutionary patterns in amniote embryonic development. Evolution and Development, 4 (4), 292-302.
https://doi.org/10.1046/j.1525-142X.2002.02018.x
Ji, X., Du, W. G. 2001. The effects of thermal and hydric environments on hatching success, embryonic use of energy and hatchling traits in a colubrid snake, Elaphe carinata. Comparative Biochemistry and Physiology - Part A: Molecular & Integrative Physiology, 129, 461-471.
https://doi.org/10.1016/S1095-6433(01)00271-9
Khannoon, E. R., Evans, S. E. 2014. The embryonic development of the Egyptian cobra Naja h. haje (Squamata: Serpentes: Elapidae). Acta Zoologica, 95 (4), 472-483.
https://doi.org/10.1111/azo.12043
Khannoon, E. R., Zahradnicek, O. 2017. Postovipositional development of the Sand snake Psammophis sibilans (Serpentes: Lamprophiidae) in comparison with other snake species. Acta Zoologica, 98 (2), 144-153.
https://doi.org/10.1111/azo.12157
Korneva, L. G. 1968. Embryonic development of the Water snake (Natrix tessellata). Zoologicheskii Zhurnal, 98, 110-120 [In Russian].
Kovtun, M. F., Sheverdyukova, H. V. 2015. Early stages of skull embryogenesis in the grass snake, Natrix natrix (Serpentes, Colubridae). Russian Journal of Developmental Biology, 46 (4), 222-230.
https://doi.org/10.1134/S1062360415040025
Lorioux, S., De Nardo, D. F., Gorelick, R., Lourdais, O. 2012. Maternal influences on early development: preferred temperature prior to oviposition hastens embryogenesis and enhances offspring traits in the Children's python, Antaresia children. Journal of Experimental Biology, 215, 1346-1353.
https://doi.org/10.1242/jeb.059113
Matsubara, Y., Sakai, A., Kuroiwa, A., Suzuki T. 2014. Efficient embryonic culture method for the Japanese striped snake, Elaphe quadrivirgata, and its early developmental stages. Development, Growth and Differentiation, 56, 573-582.
https://doi.org/10.1111/dgd.12157
Richardson, M. K. 1995. Heterochrony and the phylotypic period. Developmental Biology, 172 (2), 412-421.
https://doi.org/10.1006/dbio.1995.8041
Rupik, W. 2002. Early development of the adrenal glands in the grass snake Natrix natrix L. (Lepidosauria: Serpentes). Advances in Anatomy, Embryology and Cell Biology, 164, 1-102.
https://doi.org/10.1007/978-3-642-55977-8_1
Organ, C. L., Cooper, L. N., Hieronymus, T. L. 2015. Macroevolutionary developmental biology: Embryos, fossils, and phylogenies. Developmental dynamics: an official publication of the American Association of Anatomists, 244 (10), 1184-1192.
https://doi.org/10.1002/dvdy.24318
Savitzky, A. H., Velhagen, W. A. Jr., Chernoff, N. 2012. Collection and preservation of reptilian embryos. Chapter 6, Appendix B. In: McDiarmid, R. W., Foster, M. S., Guyer, C., Gibbons, J. W. & Chernoff N., ed. Reptile Biodiversity: Standard Methods for Inventory and Monitoring. Berkeley, Univ. of California Press, 106-114.
Schlosser, G. 2001. Using heterochrony plots to detect the dissociated coevolution of characters. The Journal of Experimental Zoology, 291 (3), 282-304.
https://doi.org/10.1002/jez.1104
Shine, R. 1983. Reptilian reproductive modes: the oviparity-viviparity continuum. Herpetologica, 39 (1), 1-8.
Tarashchuk, V. I. 1959. Amphibians and Reptiles. Publishing house of Academy of Sciences of URSR, Kyiv, 1-246 (Fauna of Ukraine. Vol. 7) [In Ukrainian].
Tokita, M., Watanabe, H. 2019. Embryonic Development of the Japanese Mamushi, Gloydius blomhoffii (Squamata: Serpentes: Viperidae: Crotalinae). Current Herpetology, 38 (1), 6-13.
https://doi.org/10.5358/hsj.38.6
Vasiliev, D. B., Timerina, A. M. 2000. Features of immobilization and anesthesia of reptiles. Proceedings of the VIII International Congress on Veterinary of small domestic animals. Moscow, 6-8 April, 163-166 [In Russian].
Velhagen, W. A. Jr., Savitzky, A. H. 1998. Evolution of embryonic growth in Thamnophiine snakes. Copeia, 3, 549-558.
https://doi.org/10.2307/1447785
Vinegar, A. 1973. The effects of temperature on the growth and development of the Indian python, Python molurus (Reptilia: Serpentes: Boidae). Copeia, 1, 171-173.
https://doi.org/10.2307/1442386
Zehr, D. R. 1962. Stages in the normal development of the Common garter snake Thamnophis sirtalis sirtalis. Copeia, 2, 322-329.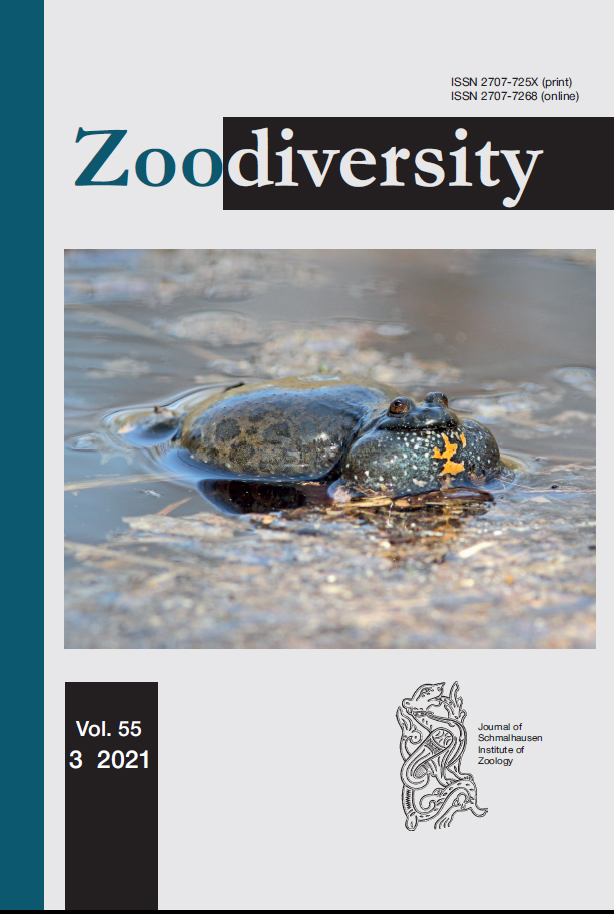 How to Cite
Sheverdyukova, H., & Merzlikin, I. R. (2021). Obtaining Oviparous Grass Snake Natrix natrix (Serpentes, Colubridae), embryos at Early Developmental Stages by Caesarean Section . Zoodiversity, 55(3), 217–224. https://doi.org/10.15407/zoo2021.03.217