New records of hover flies (Diptera, Syrphidae) from Ukraine. IV
A. V. Prokhorov

Schmalhausen Institute of Zoology, NAS of Ukraine. Affiliation ID: 60070111

G. V. Popov

Schmalhausen Institute of Zoology, NAS of Ukraine, vul. B. Khmelnitskogo, 15. Kyiv, 01030 Ukraine. Affiliation ID: 60070111

V. Yu. Shparyk

Vasyl Stefanyk Precarpathian National University vul. T. Shevchenko, 57, Ivano-Frankivsk, 76018 Ukraine
Keywords:
flower flies, Criorhina, Hammerschmidtia, Melanogaster, Orthonevra, Sphiximorpha, Temnostoma, Ukraine
Abstract
Six additional species of hover flies of the subfamily Eristalinae are recorded from
Ukraine for the first time: Criorhina pachymera Egger, 1858, Hammerschmidtia ferruginea (Fallén, 1817),
Melanogaster parumplicata (Loew, 1840), Orthonevra erythrogona (Malm, 1863), Sphiximorpha garibaldii
Rondani, 1860, and Temnostoma angustistriatum Krivosheina, 2002. Distributions of these species are
summarized and species diagnoses are provided. Updated key to males of the European species of the
genus Melanogaster including a little-known M. jaroslavensis (Stackelberg, 1922) is proposed.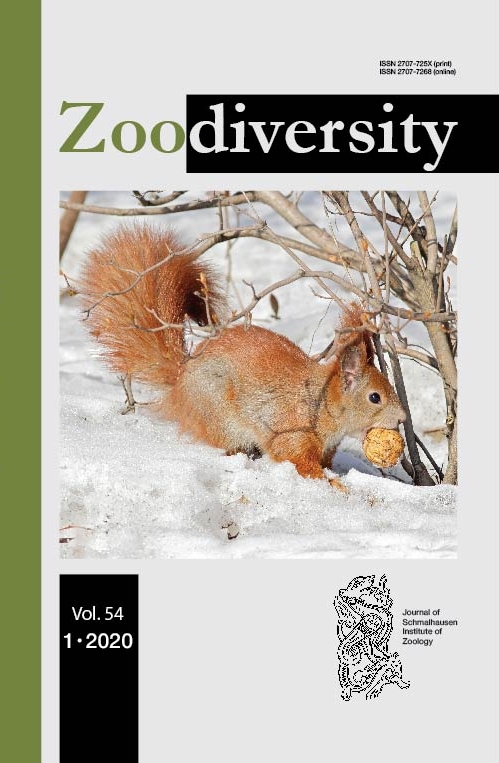 How to Cite
Prokhorov, A. V., Popov, G. V., & Shparyk, V. Y. (2020). New records of hover flies (Diptera, Syrphidae) from Ukraine. IV. Zoodiversity, 54(1). https://doi.org/10.15407/zoo2020.01.017
Section
Fauna and Systematics
Copyright (c) 2020 Institute of Zoology
This work is licensed under a Creative Commons Attribution-NonCommercial-NoDerivatives 4.0 International License.