Review of helminths from rare aquatic birds in Ukraine
O. I. Lisitsyna

Schmalhausen Institute of Zoology, NAS of Ukraine vul. B. Khmelnytskogo, 15, Kyiv, 01030, Ukraine. Affiliation ID: 60070111

https://orcid.org/0000-0002-2975-3300

O. B. Greben

Schmalhausen Institute of Zoology, NAS of Ukraine, vul. B. Khmelnytskogo, 15, Kyiv, 01030, Ukraine. Affiliation ID: 60070111

https://orcid.org/0000-0001-9942-2542

Ya. Yu. Syrota

African Amphibian Conservation Research Group, Unit for Environmental Sciences and Management, North-West University, Potchefstroom, South Africa

https://orcid.org/0000-0002-8070-9823

V. V. Korniushyn

Schmalhausen Institute of Zoology, NAS of Ukraine vul. B. Khmelnytskogo, 15, Kyiv, 01030, Ukraine. Affi liation ID: 60070111
Keywords:
aquatic birds, helminths, rare species
Abstract
Helminth fauna of aquatic bird has well studied on the territory of Ukraine. The data on the helminths of rare waterfowl are contained in numerous faunistic works. But there are no publications in which only helminths of rare aquatic birds are considered. We aim to generalize all existing data about this subject in the survey. Due to achieving this purpose, the data from the Scientific fund collections of Institute of zoology NAS Ukraine and literature are used. There are 37 species of aquatic birds in Ukraine that are suggested as rare. Data on helminths of 32 aquatic bird species are available. In total, 295 species of helminths are registered in the rare aquatic bird on the territory of Ukraine. It is found 116 cestode species, 112 trematode species, 53 nematode species, and 14 acanthocephalan species. High species diversity is in Charadriiformes and Anseriformes due to relatively big samples of these orders. Low species diversity of helminths of Falconiformes and Ciconiiformes connect with a small amount of surveyed birds. Majority species of helminths are low host-specific. And only 10 species of helminths can mature in the single species of bird. Helminths with a wide range of definitive hosts have a higher level of prevalence than ones with the single definitive host. The intermediate hosts of these helminths are widespread species of invertebrate and fishes.
Keywords: bird, helminth, endangered species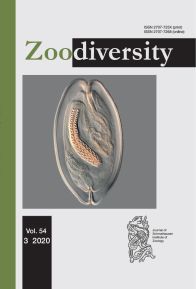 How to Cite
Lisitsyna, O. I., Greben, O. B., Syrota, Y. Y., & Korniushyn, V. V. (2020). Review of helminths from rare aquatic birds in Ukraine. Zoodiversity, 54(3). https://doi.org/10.15407/zoo2020.03.173
Section
Fauna and Systematics
Copyright (c) 2020 Zoodiversity
This work is licensed under a Creative Commons Attribution-NonCommercial-NoDerivatives 4.0 International License.