Occurrence of Dirofi laria immitis (Nematoda, Onchocercidae) in Red Foxes (Vulpes vulpes) from the Suburbs of Kharkiv (Ukraine)
Keywords:
dirofilariasis, Dirofilaria immitis, fox, dissection, Kharkiv, Ukraine
Abstract
Dirofilariasis of animals and humans is a disease caused by nematodes of the genus Dirofilaria (Railliet et Henry, 1911), suborder Filariata (Skrjabin, 1915). The role of wild predators, particularly foxes (Vulpes vulpes) (Linnaeus, 1758) in the distribution of dirofilariasis in the world remains unclear. We have studied the occurense of D. immtis (Leidy, 1856) n a population of foxes. Twenty-seven foxes were obtained and dissected during the hunting winter season of 2019-2020 in Dergachi district, Kharkiv region of Ukraine. All 27 examined foxes were older than 1.5–2 years old, 5 of them (18.5%) were 4–5 years old. Dirofilariasis caused by Dirofilaria was found in 22.2% of foxes. The intensity of infection ranged from 2 to 4 specimens of nematodes per host. In four foxes (66.7% of infected hosts), the same number of male and female nematodes was detected, and two foxes (33.3%) had each 1 male per 2 female D. immitis. The length of D. immitis males (7 specimens) was 13.96 ± 0.29 cm and the length of females (9 specimens) was 19.58 ± 0.55 cm. Prevalence of foxes with dirofilariasis may depend on their habitat and the presence of habitats which support mosquitos (obligate biological vectors of dirofilariasis) in these areas.
References
Andreyanov, O. N., Shaytanov, V. M., Yastreb, V. B. 2016. Pathogens of Dirofilariasis in the Central Region of Russia. Actual issues of veterinary biology, 4 (32), 20-22 [in Russian].
Arkhipov, I.A., Arkhipova, D.R. 2004. Dirofilariosis, Moscow, 194 [In Russian].
Bodnya, K. I. 2006. Dirofilariosis in Ukraine. Infectious diseases. 2, 76-82 [In Ukrainian].
Fіlіptsova, O. V., Hazzavі-Rohozіna, L. V., Bodnia, І. P., Naboka, O. І. 2016. Incidence of D. repens in the population of Kharkiv region. Social pharmacy: state, problems and prospects: scientific symposium in the framework of the VIII National Congress of pharmacists of Ukraine, September 15-16, 2016, 74-75 [In Ukrainian].
Fiocchi, A., Gustinelli, A., Gelmini, L., Rugna, G., Renzi, M., Fontana, M.C., Poglayen G. 2016. Helminth parasites of the red fox Vulpes vulpes (L., 1758) and the wolf Canis lupus italicus Altobello, 1921 in Emilia-Romagna, Italy. Italian Journal of Zoology, 83 (4), 503-513.
https://doi.org/10.1080/11250003.2016.1249966
Gavrilović, P., Dobrosavljević, I., Vasković, N., Todorović, I., Živulj, A., Kureljušić, B., Pavlović, I. 2019. Cardiopulmonary parasitic nematodes of the red fox (Vulpes vulpes) in Serbia. Acta Veterinaria Hungarica, 67 (1), 60-69.
https://doi.org/10.1556/004.2019.007
Henderson, W. R. 2009. Pathogens in vertebrate pests in Australia. Invasive Animals Cooperative Research Centre, Canberra, 30.
Ionică, A. M., Matei, I. A., D'amico, G., Ababii, J., Daskalaki, A. A., Sándor, A. D., Enache, D. V., Gherman, C. M., Mihalca, A. D. 2017. Filarioid infections in wild carnivores: a multispecies survey in Romania. Parasites & Vectors, 10 (332), 1-18.
https://doi.org/10.1186/s13071-017-2269-3
Kadenatcii, A. I. 1957. The Helminth Fauna of Crimean Mammals and the Experience in Treatment of Domestic Animals from Basic Helminthoses. Omsk, 1-157 [In Russian].
Kryvoruchenko, D. O., Prykhodko, YU. O., Mazannyi, O. V., Byrka, V. I. 2019. Diagnosis of dog dirofilariosis and epizootic situation in Kharkiv region of Ukraine. Veterinary medicine, technologies of animal husbandry and nature management, 4, 95-102 [In Ukrainian].
https://doi.org/10.31890/vttp.2019.04.19
Maiboroda, D. IE. 2004. The spread of dog dirofilariosis in Kharkiv and the suburban area. Problems of veterinary care of small domestic animals: materials of the IX international scientific-practical conference, 27-30 October, 2004, Kyiv, 11-12 [In Ukrainian].
Magi, M., Calderini, P., Gabrielli, S., Dell'omodarme, M., Macchioni, F., Prati, M.C., Cancrini, G. 2008. Vulpes vulpes: A Possible Wild Reservoir for Zoonotic Filariae. Vector-Borne and Zoonotic Diseases, 8 (2), 249-252.
https://doi.org/10.1089/vbz.2007.0207
Nikiforova, O., Reshetylo, O. 2019. Dynamics of Dog Dirofilariosis in the North-Eastern Region of Ukraine. BTRP Ukraine Science Writing Mentorship Program. Fourth Annual BTRP Ukraine Regional One Health Research Symposium. Abstract Directory. 20-24 Maу 2019, Kyiv. 266.
Omelianenko, M. M., Harkusha, S. IE., Maksymova, KH. H. 2016. Microscopic changes in the lungs and heart of dogs killed by dirofilariosis caused by Dirofilaria immitis. Scientific Bulletin of LNUVMBT named after S. Z. Gzhytsky, 18. 3 (70), 187-190.
https://doi.org/10.15421/nvlvet7045
Pasca, S. A., Acatrinei, D., Oprean, O. Z., Lazar, M. 2012. Vascular, hepatic and renal lesions by Dirofilaria immitis invasion in dogs. Arquivo Brasileiro de Medicina Veterinária e Zootecnia, 64 (4), 841-846.
https://doi.org/10.1590/S0102-09352012000400008
Panayotova-Pencheva, M. S., Mirchev, R. L., Trifonova, A. P. 2016. Dirofilaria immitis infection in carnivores from Bulgaria: 2012-2013 update. Bulgarian Journal of Veterinary Medicine, 19 (2), 153-162.
https://doi.org/10.15547/bjvm.918
Papadopoulos, E. Komnenou, A., Poutachides, T., Heikkinen, P., Oksanen, A., Karamanlidis, A. A. 2017. Case Report Detection of Dirofilaria immitis in a brown bear (Ursus arctos) in Greece. Helminthologia, 54 (3), 257-261.
https://doi.org/10.1515/helm-2017-0033
Pavlikovska, T. M., Sałamatin, R. V., Svita, V. M. 2014. The urgency of heartworm problems in Ukraine. The World of Veterinary Medicine. 3, 4-6 [In Ukrainian].
Penezić, A., Selaković, S., Pavlović, I., Ćirović, D. 2014. First Findings and Prevalence of Adult Heartworms (Dirofilaria immitis) in Wild Carnivores from Serbia. Parasitol. Res., 113 (9), 3281-3285.
https://doi.org/10.1007/s00436-014-3991-9
Sałamatin, R. V., Pavlikovska, T. M., Sagach, O. S., Nicolaenko, S. M., Kornyushin, V. V., Kharchenko, V. O., Masny, A., Cieleca, D., Konieczna- Sałamatin, J., Conn, D.B., Golab, E. 2013. Human dirofilariasis due to Dirofilaria repens in Ukraine, an emergent zoonosis: epidemiological report of 1465 cases. Acta Parasitologica, 58 (4), 592-598.
https://doi.org/10.2478/s11686-013-0187-x
Skryabin, K. I., Shikhobalova, N. P., Sobolev, A. A. 1949. Keys to parasitic nematodes. T. 1. Spirurata and filariates. From the Academy of Sciences of the USSR. M.-L., 298-305 [In Russian].
Tolnai, Z. Széll, Z., Sproch, Á., Szeredi, L., Sréter, T. 2014. Dirofilaria immitis: an emerging parasite in dogs, red foxes and golden jackals in Hungary. Vet. Parasitol., 203 (3-4), 339-342.
https://doi.org/10.1016/j.vetpar.2014.04.004
Varodi, E. I., Malega, A. M., Kuzmin, Y. I., Kornyushin, V. V. 2017. Helminths of Wild Predatory Mammals of Ukraine. Nematodes. Vestnik Zoologii, 51 (3), 187-202.
https://doi.org/10.1515/vzoo-2017-0026
Vinokurova, D. P. 2011. Distribution and pathomorphology of dirofilariosis in dogs and cats in the Krasnodar Territory and morphology of dirofilaria. Extended abstract of candidate's thesis. Stavropol, 18 [In Russian].
Wixsom, M. J., Green, S. P., Corwin, R. M., FritzelL, E. K. 1991. Dirofilaria immitis in coyotes and foxes in Missouri. J. Wild Dis. 27 (1), 166-169.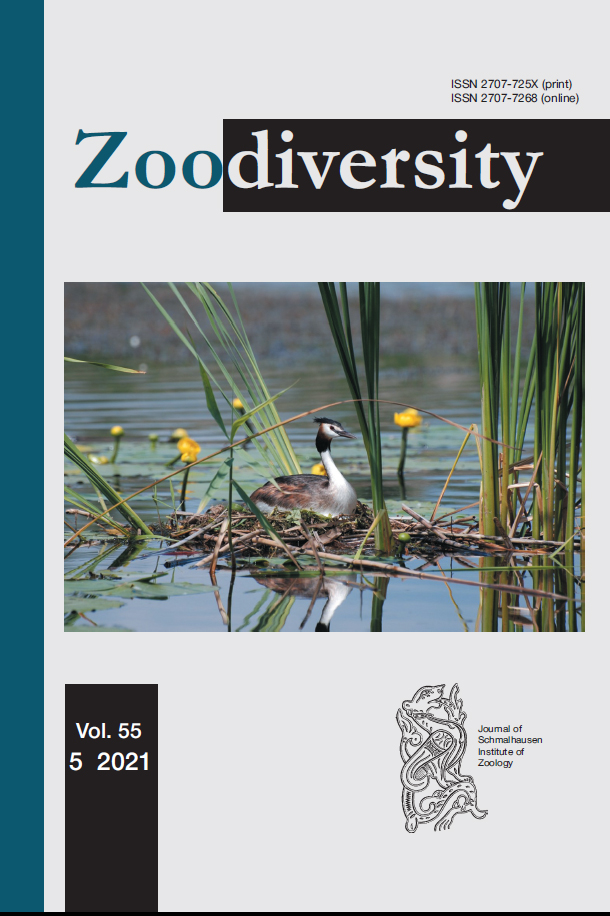 How to Cite
Liulin, P. V., Prykhodko, Y. O., Mazannyі O. V., Fedorova , H. V., Nikiforova , O. V., & Kryvoruchenko , D. O. (2021). Occurrence of Dirofi laria immitis (Nematoda, Onchocercidae) in Red Foxes (Vulpes vulpes) from the Suburbs of Kharkiv (Ukraine). Zoodiversity, 55(5). https://doi.org/10.15407/zoo2021.05.425