Ecological and faunistic review of the true bugs of infraorder Cimicomorpha (Heteroptera) of urban cenoses of Kharkiv city (Ukraine)
I. A. Fedyay

H. S. Skovoroda Kharkiv National Pedagogical University. Alchevskyh st., 29, Kharkiv, 61000 Ukraine

T.Yu. Markina

H. S. Skovoroda Kharkiv National Pedagogical University. Alchevskyh st., 29, Kharkiv, 61000 Ukraine
Keywords:
Heteroptera, Cimicomorpha, species composition, similarity, ecological groups, urban cenoses, Kharkiv, Ukraine
Abstract
A total 69 species from 44 genera and 6 families of the infraorder Cimicomorpha was recorded in urban cenoses of Kharkiv. For the first time Xylocoris galactinus is recorded from Mainland Ukraine; Catoplatus nigriceps and Stenodema holsata – from Forest-Steppe zone; Trigonotylus ruficornis – from Left-Bank Ukraine. Five species are new to Kharkiv region. The families Miridae were the most rich in species (46) and individual numbers, Nabidae (9) and Tingidae (8 species) were less represented. The species composition and individual abundance were the highest in the city parks and green areas of the suburbs, where 38 and 46 species were registered. Within the Forest Park, 29 species were recorded, in floodplain meadows – 19, and in the center of Kharkiv – only 6 species, the number of which was an order of magnitude less than in parks and green areas of the suburbs of the city. In terms of habitat preferences, about 40 species are represented by meadow individuals (almost 60% of the total number). 10 species are classified as polytopes (more than 8%). The forest group is represented by 15 species (about 12% out of total collected bugs). Among the trophic groups, herbivorous (most of Miridae, Tingidae) and zoophagous of different specializations (Nabidae, Anthocoridae, Reduviidae, some Miridae) were dominant. Broad mesophilous (48 species) predominated in the hygropreference. 12 species are assigned as mesoxerophilous, and 9 – mesohygrophilous. The main group is represented by hortobionts in habitat layer (49 species). Dendro- and tamnobionts are represented by 11 species, and stratobionts are noted singly. The level of faunal similarity of heteropterofauna of different areas (Jaccard index) was 0.10 to 0.65. The smallest similarity was noted between green areas of the city center and other urban cenoses (0.10–0.12). The maximum indices were observed for parks and forest areas (0.65), and the average for meadows (0.35–0.44).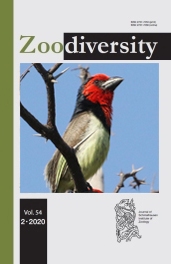 How to Cite
Fedyay, I. A., & Markina, T. Y. (2020). Ecological and faunistic review of the true bugs of infraorder Cimicomorpha (Heteroptera) of urban cenoses of Kharkiv city (Ukraine). Zoodiversity, 54(2). https://doi.org/10.15407/zoo2020.02.133
Copyright (c) 2020 Zoodiversity
This work is licensed under a Creative Commons Attribution-NonCommercial-NoDerivatives 4.0 International License.