First records of the land snail Monacha fruticola (Gastropoda, Stylommatophora, Hygromiidae) in Western Ukraine
N. V. Hural-Sverlova

State Museum of Natural History, NAS of Ukraine Teatralna St., 18, Lviv, 79008 Ukraine

R. I. Hural

State Museum of Natural History, NAS of Ukraine Teatralna St., 18, Lviv, 79008 Ukraine
Keywords:
terrestrial molluscs, anthropochory, invasive species, Ukraine
Abstract
Two colonies of the land snail Monacha fruticola, whose native range is considered limited by the Crimea, were first discovered in Western Ukraine, in Lviv city and in its immediate vicinity (Bryukhovichi settlement). They are the northernmost records of this species, currently known. The present distribution of M. fruticola outside the Crimean peninsula is analyzed.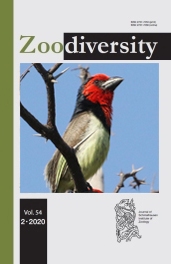 How to Cite
Hural-Sverlova, N. V., & Hural, R. I. (2020). First records of the land snail Monacha fruticola (Gastropoda, Stylommatophora, Hygromiidae) in Western Ukraine. Zoodiversity, 54(2). https://doi.org/10.15407/zoo2020.02.095
Section
Fauna and Systematics
Copyright (c) 2020 Zoodiversity
This work is licensed under a Creative Commons Attribution-NonCommercial-NoDerivatives 4.0 International License.