The Diversity of Cuculiform and Piciform Species in Partly Transformed Riparian Zambezi Forest
G. Kopij

Department of Integrated Environmental Science Ogongo Campus University of Namibia, Private Bag 5520 Oshakati, Namibia
Keywords:
bioindicators, Namibia, population densities, territoriality, tropical riparian forests
Abstract
Both cuculiform and piciform species can be used as bioindicators and, to a lesser extent, as umbrella species. A territory mapping method was employed in 2015 to assess their population densities in a riparian forest on the Zambezi River near Katima Mulilo, NENamibia. The forest, c. 280 ha in surface area, was partly transformed by human settlement and croplands. A total of 9 cuculiform and 6 piciform species were recorded. Population densities (male's territories per 100 ha) were assessed as follow: Diederick, Klaas's and Jacobin Cuckoo — each one with 1.1, African Emerald and African Black Cuckoo — each one with 0.7, Red-chested Cuckoo — 0.4; Senegal Coucal — 4.3, White-browed and Coppery-tailed Coucals — each one with 0.7;  Bearded Woodpecker — 1.8, Golden-tailed Woodpecker — 1.1, Cardinal Woodpecker — 0.4; Black-collared Barbet — 5.7, Crested Barbet — 0.7, and Yellow-fronted Tinkerbird — 1.8. Both cuculiform and woodpecker species avoided built-up areas in the man-modified riparian forest, while all barbet species appeared to prefer them. Chrysococcyx cuckoos are not territorial in respect to Cuculus/Clamator cuckoos. The latter ones are, however, territorial in respect to other species from the same genera. Coucals display territorialism in regard to members of other species of the genus Centropus.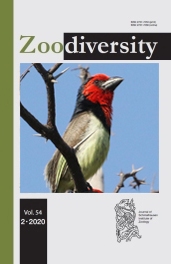 How to Cite
Kopij, G. (2020). The Diversity of Cuculiform and Piciform Species in Partly Transformed Riparian Zambezi Forest. Zoodiversity, 54(2). https://doi.org/10.15407/zoo2020.02.147
Copyright (c) 2020 Zoodiversity
This work is licensed under a Creative Commons Attribution-NonCommercial-NoDerivatives 4.0 International License.