Variation in common blackbird (Turdus merula) nest characteristics in urban and suburban localities in Crimea
V. M. Kucherenko

Taurida National V.I. Vernadsky University, 95004, prosp. Vernadskogo, 4, Simferopol, Crimea Republic, Ukraine

A. V. Ivanovskaya

Taurida National V.I. Vernadsky University, 95004, prosp. Vernadskogo, 4, Simferopol, Crimea Republic, Ukraine
Keywords:
Blackbird, Turdus merula, nest morphology, size, Crimea
Abstract
Blackbird Turdus merula is a model species for studying the impact of environmental factors on the form and structure of nests. In the middle of XX, this species began to expand its range into the artificial forests of the Ukrainian steppe zone. This expansion may have led to changes in bird behaviour, including changes in nest construction choices (e.g., nest shape, size, location and building materials). In this study, we investigated Blackbird nest diversity (i.e, size, volume, and composition) in the park of Simferopol (a city in Crimea, South Ukraine) and in an artificial forest located nearby. We found a significant inverse relationship between nest placement height and external nest diameter. External nest depth was greater in the forest than in the park. This difference reflects the variation in plant life form between the sites. More specifically, nests in trees have significantly greater external depth than the nests located on shrubs. Most nests in both urban and suburban localities contained natural and anthropogenic materials; there was no significant difference in component types between sites. In general, the anthropogenic materials played a decorative role and also served as camouflage.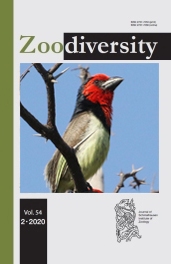 How to Cite
Kucherenko, V. M., & Ivanovskaya, A. V. (2020). Variation in common blackbird (Turdus merula) nest characteristics in urban and suburban localities in Crimea. Zoodiversity, 54(2). https://doi.org/10.15407/zoo2020.02.157
Copyright (c) 2020 Zoodiversity
This work is licensed under a Creative Commons Attribution-NonCommercial-NoDerivatives 4.0 International License.