Diversity and Density of Mollusca (Gastropoda and Bivalvia) Population in the Euphrates River at Al-Nasiriyah, Southern Iraq
Keywords:
diversity, gastropoda, Bivalvia, Euphrates River, Iraq
Abstract
The current study was conducted in one of the most important water sources in Iraq, the Euphrates river to evaluate the diversity and density of Gastropoda and Bivalvia by using appropriate biodiversity indices. The samples were taken monthly from the river sediments, during the period from 1 July 2018 to 1 June 2019 from 3 stations, the distance between the first and second stations is 5 km and the second and third station is 7 km. The results showed the presence of 9 species, 7 of them belong to the Gastropoda and 2 belong to the Bivalvia. The total number of Mollusca was 2675 ind/m2. The species Melanoides tuberculata (Muller 1774) showed more relative abundance in the Euphrates River during the study period. The highest value for richness was recorded in March at station 3, while the Shannon Wiener diversity index, the results showed that the highest values ​​were in April and May for all sites, and the highest value for eveness was recorded in January at Station 3, while the highest value for dominance was during October at station 3. Moreover, the current study included the monthly measurement of five environmental factors: water temperature, pH, salinity, dissolved oxygen, and organic matter.
References
Agudo-Padrón, A. I. 2011. Current knowledge on population studies on five continental mollusks (Mollusca, Gastropoda et Bivalvia) of Santa Catarina State (SC, Central Southern Brazil region). Biodiversity Journal, 2 (1), 9-12.
Ahmed, M. M. 1975. Systematic study on Mollusca from the Arabian Gulf and Shatt al-Arab, Iraq. Center for Arab Gulf Studies, University of Basrah, Iraq, 1-75.
Aho, J. 1978. Regional variation in the diversity of fresh water gastropoda in Southern and Western Finland. Joensuun Korkeakoulun Julkaisuja Sarja Bii, 8, 1-10.
Akbar, M. M. 2013. Ecological survey of Al- Gharaf at Thi Qar Province, Iraq. Marsh Bulletin, 8 (1), 1-17.
Akbar, M. M., AL-Ghezi, Z. K. F. 2014. The Effect of Wastewater in Some Characteristics of the Limnology of Water and Density of Some Species of Mollusca in the Euphrates River in the Province of Thi Qar/ Iraq. Univesity of Thi-Qar Journal, 9 (4), 1-13.
Al-Ansari, N. 2019. Hydro geopolitics of the Tigris and Euphrates. In: Recent researches in earth and environmental sciences. Springer, Cham, 35-70.
https://doi.org/10.1007/978-3-030-18641-8_4
Al-Bassam, K. S., Hassan, K. M. 2006. Distribution and ecology of recent mollusks in the Euphrates river - Iraq. Iraqi Bulletin of Geology and Mining, 2 (1), 57-66.
Al-Bdairi, A. B. M., Mohammad, M. K., Al-Miali, H. M. 2014. Freshwater snails diversity in the middle and south regions of Iraq. Advances in Bio Research, 5 (3), 166-171.
Al-Fanharawi, A. A., Ibrahim, S. S. 2014. Environmental Study of the Benthic Mollusks in Euphrates River at Samawa City, Iraq. International Journal of Science and Research (IJSR), 3 (7), 1955-1960.
Ali, G. A. 2021. Impact of Environmental Factors on Annelida: Oligochaeta in the Euphrates River, Al-Nassiriyah City-Southern Iraq. Indian Journal of Ecology, 48 (15), 147-154.
Al-Khafaji, K., Karim, R., Al-Baghdadi, N. 2021. Study of Aquatic Gastropods (Mollusca) in Shatt Al-Arab River, Iraq. Egyptian Journal of Aquatic Biology and Fisheries, 25 (3), 137-146.
https://doi.org/10.21608/ejabf.2021.172861
Al-Khazali, A. M. 2012. Ecological Study of Mollusca and Determination of Heavy Elements Concentration in water, Sediment and species snail in AL-Garaf River - Thi Qar/ South of Iraq. M. Sc. Thesis, Basrah Univ. 1-114.
Al-Qarooni, E. H. M. 2005. Study of seasonal abundance of aquatic invertebrates in southern Iraqi marshes. M. Sc. Thesis, University of Basrah, 1-97.
Al-Saffar, M. A. 2007. Interaction between the environmental variables and benthic macroinvertebrates community structure in Abu Zirig Marsh, Southern Iraq. M. Sc. Thesis, University of Baghdad, College of Science, Baghdad, Iraq. X +156.
Alzurfi, S. K., Algburi, J. B., Taher, M. M., Alhachami, L. H., Zwain, K. A. 2019. Mollusca Diversity in Aquatic Ecosystem. Journal of Engineering and Applied Sciences, 14, 7277-7283.
https://doi.org/10.36478/jeasci.2019.7277.7283
Frandsen, F. A. 1983. Field guide to freshwater snails in countries of the WHO Eastern Mediterranean region. Danish Bilharziasis laboratory. 1-45.
Ghulam, I. N. 2019. Ecological of Viviparus bengalensis Lamarck, 1822 (Mollusca: Gastropoda) in the Holy Karbala. Journal of Pharmaceutical Sciences and Research, 11 (2), 643-646.
Glöer, P., Pešić, V. 2012. The freshwater snails (Gastropoda) of Iran, with descriptions of two new genera and eight new species. ZooKeys, 219, 11-61.
https://doi.org/10.3897/zookeys.219.3406
Hashim, N. N., Al-Taee, M. M. 2015. Biodiversity of benthic macroinvertebrates in al-razzaza lake at karbala province/ Iraq. International Journal, 3 (1), 423-427.
Hooper, D. U., Chapin III, F. S., Ewel, J. J., Hector, A., Inchausti, P., Lavorel, S., ... & Wardle, D. A. 2005. Effects of biodiversity on ecosystem functioning: a consensus of current knowledge. Ecological monographs, 75 (1), 3-35.
https://doi.org/10.1890/04-0922
Kefford, B. J., Nugegoda, D. 2005. No evidence for a critical salinity threshold for growth and reproduction in the freshwater snail Physa acuta. Environmental pollution, 134 (3), 377-383.
https://doi.org/10.1016/j.envpol.2004.09.018
Khalaf, R.Z. 2011. Ecological Study of Gastropods in Intertidal Zone of the Northern Part of Shatt Al-Arab, Iraq. M.Sc. thesis, College of Science, University of Basrah, 1-103 [In Arabic].
Margalef, R. 1968. Perspectives in ecology theory. University of Chicago Press, Chicago. 1-111. Cited by Nash, R.D.M. and Gibson, R. N. 1982.
Mirza, N. N., Nashaat, M. R. 2019. Abundance, diversity and distribution of Mollusca in the Gharaf River, Southern Iraq. Iraqi Journal of Science, 60 (3), 469-485.
Mizhir, A. H., Al-Muhana, W. H., Mohammed, Z. A. 2014. Diagnostic and environmental study of mollusks in the Shatt al-Kufa/ Euphrates River. Al-Kufa University Journal for Biology, 6 (3), 1-11.
Mohammad, M. K. 2014. Ecology of the freshwater snail Melanopsis buccinoidea in Ain Al- Tamur, Kerbala Province. International Journal of Current Microbiology and Applied Science, 3 (2), 390-394.
Naser, M. D., Yasser, A. G., Al-Khafaji, K. K., Aziz. N. M., Gmais, S. A. 2008. The genus Lymnaea (Lamarck, 1799) from southern Mesopotamia: Are the morphological and anatomical studies enough to solve its complexity? Marina Mesopotamica, 23 (2), 349-362.
Odum, W. A. 1970. Insidious alternation of the estuarine environment. Transactions of the American Fisheries Society, 99, 836-847.
https://doi.org/10.1577/1548-8659(1970)99<836:IAOTEE>2.0.CO;2
Park, Y. S., Verdonschot, P. F., Chon, T. S., Gevrey, M., Lek, S. 1999. Macroinvertebrate community assemblages. EU project, 198- 205.
Peterson, R. H., Van Eeckhaute, L., Eddy, S. B. 1987. Benthic invertebrates of the Westfield river (Nova Scotia). Canadian Technical Report of fisheries Aquatic Sciences, 1561.
Pielou, E. C. 1966. Shannons formula as measure of specific diversity: its use and misuse. The American Naturalist, University of Chicago, 100 (914), 463-465.
https://doi.org/10.1086/282439
Plaziat, J. C., Younis, W. R. 2005. The modern environments of Molluscs in southern Mesopotamia, Iraq: A guide to paleogeographical reconstructions of Quaternary fluvial, palustrine and marine deposits. Carnets de géologie, (A01), 1-18.
https://doi.org/10.4267/2042/1453
Ramakrishna, Dey, A. 2007. Handbook on Indian Freshwater Molluscs. Zoological Survey of India, 1-399.
Sabtie, H. A. 2009. An ecological study of the benthic macroinvertebrates community in the Southern marshes of Iraq. Ph. D. Thesis College of Science for Women/ Baghdad University.
Saha, B. K., Jahan, M. S., Hossain, M. A. 2017. Ecology and abundance of Bellamya bengalensis (Lamarck, 1822) (Gastropoda:Viviparidae) in pond habitats of Rajshahi. Bangladesh journal of scientific and industrial research, 52 (2), 107-114.
https://doi.org/10.3329/bjsir.v52i2.32920
Salman, J. M., Nassar, A. J. 2014. Variation of some physico-chemical parameters and biodiversity of gastropods species in Euphrates River, Iraq. International Journal of Environmental Science and Development, 5 (3), 328-331.
https://doi.org/10.7763/IJESD.2014.V5.502
Shannon, C. E., Weaver, W. 1949. The mathematical theory of communication. University Ilion's. Press Urbane, 1-117.
Sharma, S., Dubey, S., Chaurasia, R., Dave, V. 2013. Macroinvertebrate community diversity in relation to water quality status of Kunda river (M.P.), India. Discovery, 3 (9), 40-46.
Stewart, T. W., Garcia, J. E. 2002. Environmental factors causing local variation density and biomass of the snail Leptoxis carinata, in Fishpond Creek, Virginia. The American midland naturalist, 148 (1), 172-180.
https://doi.org/10.1674/0003-0031(2002)148[0172:EFCLVD]2.0.CO;2
Stiling, P. 1999. Ecology Theories and Application. 3rd Edition, Prentice-Hall, Inc., Upper Saddle River. 1-638.
Strong, E. E., Gargominy, O., Ponder, W. F., Bouchet, P. 2008. Global diversity of gastropods (Gastropoda; Mollusca) in freshwater. Hydrobiologia, 595, 149-166.
https://doi.org/10.1007/s10750-007-9012-6
Supian, Z., Ikhwanuddin, A. M. 2002. Population dynamics of freshwater molluscs (Gastropod: Melanoides tuberculata) in crocker range park, Sabah. ASEAN Review of Biodiversity and Environmental Conservation (ARBEC), 1 (1), 1-9.
Watson, A. M. Omerod, S. J. 2004. The microdistribution of three uncommon freshwater gastropods in the drainage ditches of British grazing marshes. Aquatic Conservation. Marine and Freshwater Ecosystems, 14 (3), 221-236.
https://doi.org/10.1002/aqc.611
Wetzel, R. G. 2001. Limnology: Lake and River Ecosystems. Third Edition, Academic Press, San Diego, 1-1006.
https://doi.org/10.1016/B978-0-08-057439-4.50004-6
Whitton, B. A. 1975. River ecology. Studies in Ecology 2. Oxford, Blackwell Scientific Publications. US distributors, University of California Press. x+725 pp.
Winemiller, K. O. 2018. Trends in biodiversity: freshwater. Encyclopedia of the Anthropocene, 3, 151-161.
https://doi.org/10.1016/B978-0-12-809665-9.09820-7
Wosu, L. O. 2003. Commercial snail farming in West-Africa - A guide. Nsukka, AP Express Publishers Ltd.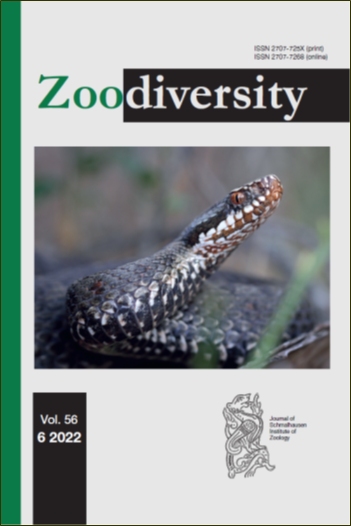 How to Cite
A. Ali Al-Yacoub, G., Najim , S. A., & Al-Khazali , A. M. (2022). Diversity and Density of Mollusca (Gastropoda and Bivalvia) Population in the Euphrates River at Al-Nasiriyah, Southern Iraq. Zoodiversity, 56(6). https://doi.org/10.15407/zoo2022.06.473