The Diplazontinae parasitoids (Hymenoptera, Ichneumonidae, Diplazontinae) in the Ukrainian Carpathians: an overview
Oleksandr Varga

Schmalhausen Institute of Zoology NAS of Ukraine
Keywords:
Hymenoptera, Ichneumonidae, Diplazontinae, new records, taxonomy, Ukraine, Carpathians
Abstract
The Carpathian species of the subfamily Diplazontinae are reviewed. The list contains 48 species, of which 39 are recorded from Ukraine for the first time. Species composition and high-altitude zones distribution of diplazontines in the studied region are discussed.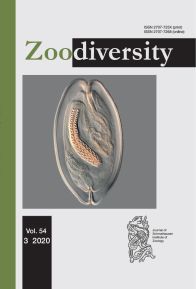 How to Cite
Varga, O. (2020). The Diplazontinae parasitoids (Hymenoptera, Ichneumonidae, Diplazontinae) in the Ukrainian Carpathians: an overview . Zoodiversity, 54(3). https://doi.org/10.15407/zoo2020.03.221
Copyright (c) 2020 Zoodiversity
This work is licensed under a Creative Commons Attribution-NonCommercial-NoDerivatives 4.0 International License.