Road mortality of Carnivores (Mammalia, Carnivora) in Belarus
Anna Sidorovich

Scientific and Practical Center for Bioresources of National Academy of Sciences of Belarus

Ruslan Novitsky

Scientific and Practical Center for Biological Resources of National Academy of Sciences of Belarus

Irina Solovej
Keywords:
Carnivora, road mortality, regional patterns, seasonal variation, Belarus
Abstract
Global road infrastructure is expanding rapidly, and its threats to wildlife populations is increasing worldwide. We determined the species composition of carnivores killed on roads in Belarus. Seasonal dynamics and regional patterns of mortality rates were estimated. From July 2007 to august 2018, we traveled a total of 52,159 km, and recorded 368 carnivore road-kills representing 11 species (73 % of the study area checklist). Average mortality rate equaled 7.25 road-killed individuals per 1000 km/day surveyed across all roads. The most common species we encountered were the domestic cat Felis silvestris catus Linnaeus, 1758 (53.3 %, n=196), common dog Canis lupus familiaris Linnaeus, 1758 (21.4 %, n=78), and red fox Vulpes vulpes Linnaeus, 1758 (14.7 %, n=54). Our results confirmed that traffic volume and time of the year strongly influence frequency of road-kills, along that, we did not reveal significant impacts of road mortality on populations of carnivores in Belarus.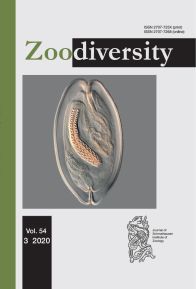 How to Cite
Sidorovich, A., Novitsky, R., & Solovej, I. (2020). Road mortality of Carnivores (Mammalia, Carnivora) in Belarus. Zoodiversity, 54(3). https://doi.org/10.15407/zoo2020.03.211
Copyright (c) 2020 Zoodiversity
This work is licensed under a Creative Commons Attribution-NonCommercial-NoDerivatives 4.0 International License.