Helminths of antarctic rockcod Notothenia coriiceps (Perciformes, Nototheniidae) from the akademik Vernadsky station area (Argentine Islands, West Antarctica): new data on the parasite community
T. A. Kuzmina

I.I. Schmalhausen Institute of Zoology NAS of Ukraine, vul. B. Khmelnytskogo, 15, Kyiv, 01030 Ukraine

O. O. Salganskij

State Institution National Antarctic Scientific Center, blvd. Tarasа Shevchenkа, 16, Kyiv, 01601 Ukraine

O. I. Lisitsyna

I.I. Schmalhausen Institute of Zoology NAS of Ukraine, vul. B. Khmelnytskogo, 15, Kyiv, 01030 Ukraine

E. M. Korol

National Museum of Natural History NAS of Ukraine, vul. B. Khmelnytskogo, 15, Kyiv, 01030 Ukraine
Keywords:
Notothenia coriiceps, helminths, Acanthocephala, Nematoda, Cestoda, Trematoda, Antarctica
Abstract
The aim of our study was to update the information on taxonomic diversity and structure of the parasite community of Antarctic rockcod, Notothenia coriiceps in the coastal water off the Argentine Islands (Wilhelm Archipelago, Graham Land, West Antarctica). The material for this study was collected in 2014–2015 at the Ukrainian Antarctic station "Akademik Vernadsky". More than 8,500 specimens of parasites from 106 host specimens were collected and identified. All fishes were found to be infected with helminths; 25 helminth species were identified. Acanthocephalans were recorded in 93.4 % of hosts; eight species of acanthocephalans (Metacanthocephalus rennicki, M. johnstoni, M. campbelli, M. dalmori, Aspersentis megarhynchus, Corynosoma hammani, C. pseudohammani, and C. evae) were found. Nematodes were found in 96.2 % of fishes; larval stages of Pseudoterranova sp., Contraceacum sp., Anisakis sp. and adults Ascarophis nototheniae and Dichelyne fraseri were identified. Trematodes were found in 94.3 % of fishes; seven species (Macvicaria georgiana, Neolebouria antarctica, Lepidapedon garrardi, Genolinea bowersi, Elytrophalloides oatesi, Lecithaster macrocotyle, Derogenes johnstoni) were identified. Larval stages of cestodes (Diphyllobothrium sp. and tetraphyllidean metacestodes) and the monogenean species Pseudobenedenia nototheniae were found. Our studies revealed significant changes in the structure of the parasite community of N. coriiceps during the last decade.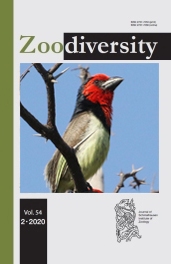 How to Cite
Kuzmina, T. A., Salganskij, O. O., Lisitsyna, O. I., & Korol, E. M. (2020). Helminths of antarctic rockcod Notothenia coriiceps (Perciformes, Nototheniidae) from the akademik Vernadsky station area (Argentine Islands, West Antarctica): new data on the parasite community . Zoodiversity, 54(2). https://doi.org/10.15407/zoo2020.02.099
Copyright (c) 2020 Zoodiversity
This work is licensed under a Creative Commons Attribution-NonCommercial-NoDerivatives 4.0 International License.