Regional recaptures of bats (Chiroptera, Vespertilionidae) ringed in Eastern Ukraine
A. Vlaschenko

Bat Rehabilitation Center of Feldman Ecopark, 62340 Lesnoye, Kharkiv Region, Ukraine

A. Prylutska

Bat Rehabilitation Center of Feldman Ecopark, Lesnoye vil., Kharkiv Region, 62340 Ukraine

K. Kravchenko

Bat Rehabilitation Center of Feldman Ecopark, Lesnoye vil., Kharkiv Region, 62340 Ukraine

O. Rodenko

Bat Rehabilitation Center of Feldman Ecopark, Lesnoye vil., Kharkiv Region, 62340 Ukraine

V. Hukov

Bat Rehabilitation Center of Feldman Ecopark, Lesnoye vil., Kharkiv Region, 62340 Ukraine

O. Timofieieva

Bat Rehabilitation Center of Feldman Ecopark, Lesnoye vil., Kharkiv Region, 62340 Ukraine

O. Holovchenko

Bat Rehabilitation Center of Feldman Ecopark, Lesnoye vil., Kharkiv Region, 62340 Ukraine

M. Moiseienko

Bat Rehabilitation Center of Feldman Ecopark, Lesnoye vil., Kharkiv Region, 62340 Ukraine

V. Kovalov

Bat Rehabilitation Center of Feldman Ecopark, Lesnoye vil., Kharkiv Region, 62340 Ukraine
Keywords:
short-distant movements, banding, migratory patterns, monitoring,, bats,, Ukraine
Abstract
Bats are volant and highly mobile mammals that could cover up to 2000 km seasonally (one-way migration). But the level of mobility among different roosts sites in a breeding season, and among breeding areas and hibernation sites is poorly studied. With this communication, we aimed to present results of recaptures (51 cases with a distance of 0.5 km and more) of bats ringed in Kharkiv Region, Ukraine, from 2006 to 2018. The recaptures were obtained of three main study areas (NNP "Homilsha Forests" — 17 cases, Izium District — 5, Kharkiv City and surroundings — 27) and at two other localities of the Kharkiv Region. One recapture was obtained in Lugansk Region. The recaptures were received for five bat species (Nyctalus noctula — 35, Myotis daubentonii — 11, Eptesicus serotinus — 1, Pipistrellus nathusii — 1 and Pipistrellus pygmaeus — 3). The maximum distances were obtained to different species as follow N. noctula — 209.7 km, M. daubentonii — 24.8, E. serotinus — 14.5 km, P. nathusii — 1.1 km and P. pygmaeus — 1.2 km. For the first time, we confirmed that N. noctula that were born in forested areas of Kharkiv City surroundings moved to the built-up area of the city for hibernation. It is the first direct evidence of the existence of the resident population of this species in Ukraine.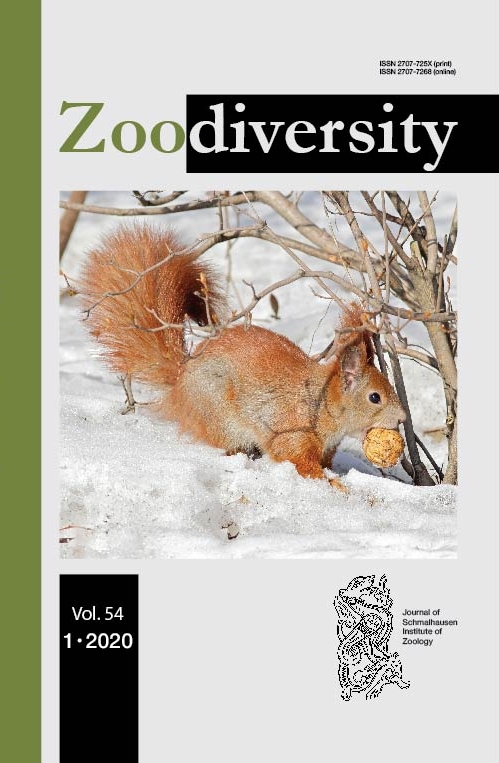 How to Cite
Vlaschenko, A., Prylutska, A., Kravchenko, K., Rodenko, O., Hukov, V., Timofieieva, O., Holovchenko, O., Moiseienko, M., & Kovalov, V. (2020). Regional recaptures of bats (Chiroptera, Vespertilionidae) ringed in Eastern Ukraine. Zoodiversity, 54(1). https://doi.org/10.15407/zoo2020.01.053
Copyright (c) 2020 Institute of Zoology
This work is licensed under a Creative Commons Attribution-NonCommercial-NoDerivatives 4.0 International License.