A survey of Ciidae Leach, 1819 (Coleoptera: Tenebrionoidea) of the Hyrcanian Forest (Iran) with new faunistic records
Sudabe Amini

University of Tehran, Karaj, Iran

Roman Krolik

Mickiewicza, 8, 46-200 Kluczbork, Poland

Jamasb Nozari

University of Tehran, Karaj, Iran

Mohammad Ebrahim Farashiani

Research institute of Forest and Rangeland, Agriculture Research, Education and Extension Organization (AREEO), Tehran, Iran

Farzane Kazerani

Research institute of Forest and Rangeland, Agriculture Research, Education and Extension Organization (AREEO), Tehran, Iran
Keywords:
Ciid beetles, new records, fauna, forest, fungi, Iran, Middle East
Abstract
Ciidae are a small family of mycetophagus beetles with only nine species so far recorded in Iran. The occurrence of four of them has now been confirmed. During the 2014-2017 survey in the Hyrcanian Forest, North Iran, 12 species belonging to 6 genera have been recorded for the first time in Iran. As a result of this study, the number of species known from Iran has increases to 21.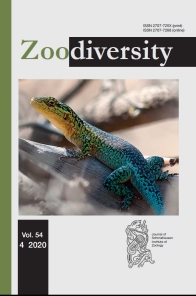 How to Cite
Amini, S., Krolik, R., Nozari, J., Farashiani, M. E., & Kazerani, F. (2020). A survey of Ciidae Leach, 1819 (Coleoptera: Tenebrionoidea) of the Hyrcanian Forest (Iran) with new faunistic records . Zoodiversity, 54(4). https://doi.org/10.15407/zoo2020.04.317
Copyright (c) 2020 sudabe Amini, Roman Krolik, Jamasb Nozari, Mohammad Ebrahim Farashiani, Farzane Kazerani
This work is licensed under a Creative Commons Attribution-NonCommercial-NoDerivatives 4.0 International License.