Ecology of avian settlements in Lake Tonga (Northeast Algeria)
K. Loucif

Department of Veterinary Sciences, University of Chadli Bendjedid, 36000 El Tarf, Algeria

https://orcid.org/0000-0002-2046-2830

M. Bara

Laboratoire Biologie, Eau et Environnement (LBEE). Faculté SNV-STU, Université 8 Mai 1945 Guelma. BP. 401 24000. Guelma (Algeria)

https://orcid.org/0000-0003-3818-424X

A. Grira

National Park of El Kala, 36100 El Kala, El Tarf, Algeria

M. C. Maazi

Department of Biology, Faculty of Natural and Life Sciences, University Mohamed Chérif Messaidia of Souk-Ahras, 41000 Souk-Ahras, Algeria

A. Hamli

Laboratoire Biologie, Eau et Environnement (LBEE). Faculté SNV-STU, Université 8 Mai 1945 Guelma. BP. 401 24000. Guelma (Algeria)

M. Houhamdi

Laboratoire Biologie, Eau et Environnement (LBEE). Faculté SNV-STU, Université 8 Mai 1945 Guelma. BP. 401 24000. Guelma (Algeria)
Keywords:
Lake Tonga, bird diversity, phenology, waterbirds, bird breeding
Abstract
Lake Tonga is an integral reserve within the El-Kala National Park, Biosphere Reserve and Ramsar site. This study consists in determining the diversity and phenology status of waterbirds in this reserve over an entire annual cycle (2017–2018). The census was carried out from fixed observation points. Of the 35 species recorded, wintering birds dominate with 12 species (34 %), followed by breeding sedentary species with 11 species (32 %). The breeding water bird populations are dominated by the common coot Fulica atra, (with a maximum of 6,033 birds) followed by the Anatidae, Herons and Grebes. Lake Tonga is a breeding area for several avian species and a recruitment site for a multitude species bird during the wintering period. Three Anatidae nest at Lake Tonga: the white-headed duck Oxyura leucocephala, the ferruginous duck Aythya nyroca and the mallard Anas platyrhynchos.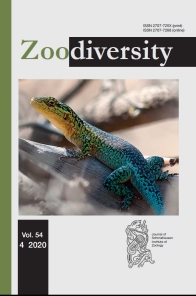 How to Cite
K. Loucif, M. Bara, A. Grira, M. C. Maazi, A. Hamli, & M. Houhamdi. (2020). Ecology of avian settlements in Lake Tonga (Northeast Algeria). Zoodiversity, 54(4). https://doi.org/10.15407/zoo2020.04.275
Copyright (c) 2020 Zoodiversity
This work is licensed under a Creative Commons Attribution-NonCommercial-NoDerivatives 4.0 International License.